Destination Education were at the Human and Social Sciences Careers Fair at the University of West London (Brentford Campus) earlier this month!
The feedback we  received from the students has been overwhelmingly positive, with many mentioning how useful they found the event.
We have helped a number of students find flexible work within Special Educational Needs Schools or centres,  mainstream Nurseries, Primary Schools, Secondary Schools and Colleges. At present we have a number of live vacancies available,  ranging from general Teaching/Teaching Assistants to Learning Support Assistants and specific SEN roles including mental health, mentoring, behavioural support and inclusion.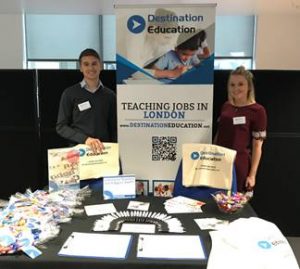 If you are looking for part time/full time work during your studies then give one of our experienced consultants a call today on 0208 066 0472!